You'll reach the spiral galaxy one day Anthony Gonzalez
I discovered M83 entirely by accident when surfing the net years ago, and ever since then I thank my lucky stars for this accidental discovery. I think of this like discovering Plutonium by accident, hmmm well maybe not like that but you get the idea.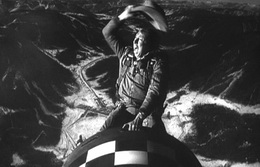 M83's double album Hurry Up, We're Dreaming comes out on the 18th of October and we here at Tastebuds couldn't be more excited. For those of you who are unfamiliar with M83 this is their 6th studio album. Founded by Anthony Gonzalez and former member Nicolas Fromageau; M83 have been concocting their blend of Electronic and shoe-gaze since their self-titled debut in 2001. 10- years on we look at the many luscious soundscapes that this amazing live act has created over the years.
When the track names on the debut M83 album are assembled they form a sentence that describes an encounter with a girl named Kelly. The choice in these track titles sets the tone for the album, creating a spectacle of ambient pop that aids in the 'narration' of the boy-girl apologue that is M83 (2001). Not to mention the movie dialogue samples that the duo provided, which would eventually have a semi-occurring presence in M83's tracks in the future.
M83 – Night from M83
The second studio album by M83 brought forth a larger than life construction of an infinite universal soundscape, the album carries
you through the oscillating cosmos far from the terra homeland. The synthesizer is the focal point; and this resonates throughout the album. Loveless by My Bloody Valentine is often cited as one of the major influences of this album along with Brian Eno's Another Green World. This album gave M83 the recognition it deserved and allowed for the creation of a following that would be inspired over the years.
M83 – Run Into Flowers from Dead Cities, Red Seas & Lost Ghosts
First off, freaking great cover art for the album, looking at it, it's like I'm whisked away to some kind of futurist metropolis that shines in the sky containing citizens that feebly meander through the backstreets as they witness the decay of their once decadent Megacity.

Although a continuation of M83's signature ethereal cascade of dream-pop, Before the Dawn Heals Us was a mainly solo piece after the departure of Nicolas Fromageau. In the 3rd studio album Gonzalez delivers a melange of his classic shoe-gaze tone mixed with his 'Tangerine Dream' vigor.
M83 – Don't Save Us From The Flames from Before the Dawn Heals Us
The 4th album was a mostly instrumental/ambient album, a less 'pop' aligned album. It's one of those albums that don't really have any stand-out tracks. But, as a whole, it creates a good level of distortion in each track to create an introspective atmosphere compared to the previous albums.
Ah, Saturdays=Youth, Gonzalez's attempt to create a nice anecdote of teenage love in the 1980's, by far the most pop-orientated and accessible album to those new to M83 but in now way is it any lesser than its predecessors. 
The album features a more focused approach to song structure and form. There is a shamelessly heartfelt sincerity to these tracks; possibly expressed via Gonzalez's own experiences of reminiscent times during these teenage years, which is extremely refreshing given the number of bands that are currently adopting an 80's influenced sound.
I always felt that this album could be the soundtrack to some kind of movie that is yet to be made, perhaps a kind of coming of age Stand By Me-esque film coupled with some light hearted Fast Times at Ridgemont High shenanigans, who knows I'm sure Gonzalez's teenage 80's years were more French and refined than this vision I have.
M83 – Kim & Jessie from Saturdays=Youth
And finally, to the latest album. Using instruments not found on previous M83 albums – such as acoustic guitars and saxophone – Gonzalez has aptly described this album as essentially about dreams and a tribute to the 30 years of his life. We'll leave you to make up your own mind. You can stream the album here.
Let us know what you think of the new album by commenting below, or by leaving a message on the forums. Or even better, find M83 fans on Tastebuds and share your thoughts with them.
Join Tastebuds and meet people through music
Tastebuds connects you with people in your city who share your taste in music. Simply add your favourite music and start meeting new people!
See your music matches